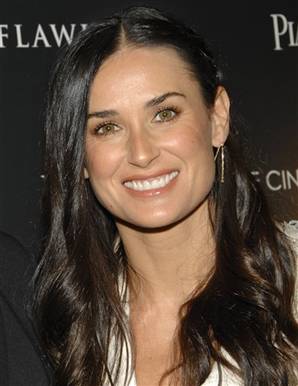 Following the commercial success of Indecent Proposal, Moore's career hit something of a downward spiral. 1994's Disclosure proved a disappointment, and the following year's Now and Then (which she also produced) staged a similarly wan performance at the box office; however, it was Moore's other film that year, a "free,"or, as some would say, staggeringly misguided, adaptation of Nathaniel Hawthorne's -The Scarlet Letter, that had critics howling and audiences cowering like small children
being forced to watch German expressionist films.
An unintentionally hilarious rendering of the classic tale, it featured Moore's Hester Prynne exposing plenty of skin, luxuriating in what must have been one of
Puritan New England's few hot tubs, having steamy sex on a shifting bed of grain, and walking off into the sunset with her beloved
Reverend Dimmesdale (a moody Gary Oldman).
Following this debacle, Moore took refuge on safer grounds, lending her voice to Disney's animated The Hunchback of Notre Dame in 1996; however, that same year, she encountered another career pitfall in the form of Striptease.
Based on Carl Hiaasen's satirical novel about a divorcée who turns to stripping
so that she can raise money to win back custody of her daughter, the tonally inconsistent film proved a failure, despite titillating advertisements promising that Moore would bare all for audiences.
The actress' career suffered a further blow with the disappointment of Ridley Scott's G.I. Jane in 1997, and she found herself getting more attention for her offscreen life as she was, by that point, embroiled in a very public divorce from Willis.
The two formally separated in 1998.